Welcome on chairs4u.de
On this website you find design furniture and home accessories as well as other design objects from different eras, from Art nouveau unitl today. Besides pieces from well-known designers you can also find items from anonymous everyday designers.
The offered products are mostly used goods, which have been (partly) restored with great care. Some of them have even been newly interpreted.
This website represents the product portfolio of chairs4u.de and more. On the one hand, it contains sold products as references. On the other hand, it contains currently available products, which can be purchased in our ebay shop.
Productnumber: 215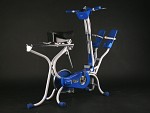 GINNY ATALA EXERCISE BIKE AND ROWING DEVICE
TALIAN CYCLING EXERCISE BIKE ATALA GINNY AND ROWING IN ONE UNIT. MADE CA. In 1980.
Show details
Status:
sold
Product-link: Request a similiar product
&nbsp
Productnumber: 214
STREAMLINE DESIGN 50s FLOOR LAMP STEHLAMPE ROCKA
FLOOR LAMP DESIGNED FROM THE COMPANY BLACK HEAD COVER DRY FROM THE YEARS THE 50s
Show details
Status:
sold
Product-link: Request a similiar product
&nbsp
Productnumber: 213
SET 4 GIROFLEX STOLL OFFICE CHAIRS ORANGE
4 OFFICE CHAIRS MANUFACTURER GIROFLEX 70 YEARS FROM THE COLOR ORANGE
Show details
Status:
sold
Product-link: Request a similiar product
&nbsp